Gotland Company paves the way for prosperous communities where people can meet, live and work – communities that are resilient, attractive and sustainable. Achieving this requires clear goals and major investments, now and for a long time to come. Under the Destination Zero initiative – our journey towards zero emissions – we are working to cut emissions in all our operations.
Destination Zero is our most important journey, and completing it successfully needs to be the focus of every operation within the group. Via investments spanning several areas both on land and at sea, Gotland Company is contributing to the transition that the climate and our society need. The first target is to make the Gotland service climate-neutral by 2045.
Ongoing work includes investing in next-generation technology and fuel, infrastructure for green energy, and the long-term development of our destinations. Destination Zero continues our long tradition of social responsibility and our future-focused drive to help strengthen and grow our locality.
Gotland Horizon
2021 saw the launch of our first hydrogen-powered concept ship: the Gotland Horizon, which marks Sweden's first project for large-scale, hydrogen-powered transport of passengers and cargo by sea. The aim is to have the ship in service by 2030. We are developing Sweden's first hydrogen-powered vessel for large-scale passenger operations. With Gotland Horizon we are setting our sightsbs higher than ever, as we seek to revolutionise shipping by offering maritime transport with low emissions.
Read more about Gotland Horizon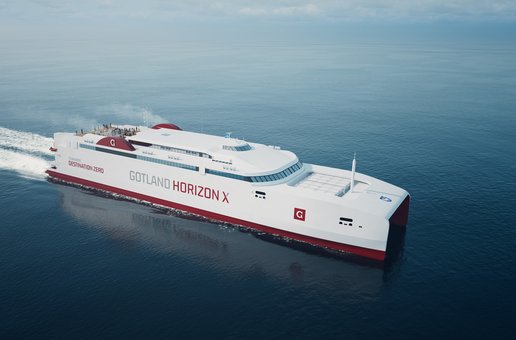 Gotland Horizon X
In 2022 we launched Gotland Horizon X, the world's first large-scale hydrogen-powered catamaran. Gotland Horizon X is a high-speed catamaran that further shorten the distance between Gotland and the mainland, with a crossing time of less than three hours. The ship is the second in the Horizon series and is based on gas turbines used together with steam turbines, with hydrogen as its primary fuel.  
Read more about Gotland Hydrocat
Would you like to join us on our journey to Destination Zero?